Prolonged Rwanda & Uganda diplomatic spat is a threat to stability of EAC Block
Rwanda and Uganda have been at loggerhead over border dispute for sometimes now until they were brought together by the Angolan president in Luanda two Months ago and both the two men signed peace agreement albeit disguiet from their Ministers and cheers from the citizens.
Rwanda and Uganda are both members of the six-nation East African Community bloc under which citizens from one partner state are allowed to move to another and work or settle there with relative ease however that is not the case as the two generals, Kagame and Museveni and nolonger in good terms.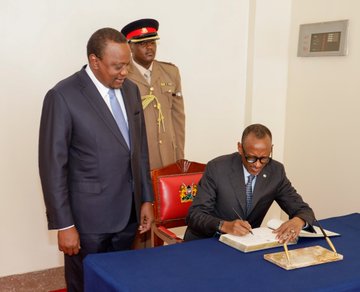 The two generals diplomatic spat have negatively impacted the livelihood of many Rwandans and Ugandanst in equal measure. It seems the LUANDA PEACE AGREMENT IS IN ICU DEATH BED!
To drive the picture home; Rwanda Citizen still face the risk of death for using un-gazetted Routes to cross into Uganda Border, while Some Uganda Citizens were recently Killed on Rwanda Soil. Some Ugandan citizens and Rwanda Citizen were also deported without any harm to their home Countries.
We dare ask Museveni and Kagame, at what point will you realize your hurting your people when their movement freely is restricted and your prolonged infighting is threatening to tear apart the EAC regional block?
Kenya President Uhuru Kenyatta and Tanzania Counterpart John Magufuli past function.
These two generals need to let go of their ego and pride and do the right thing, seat down and talk! for areplacement to dialogue is war. without trade war begins!

The silence exhibited by both Magufuli and Uhuru Kenyatta is quite dangerous and synic. these leaders need to know these prolonged diplomatic spat is athreat to stability of the EAC block. Its evident from the second postponement of the EAC heads of state summit that was to take place.
In the past, President Kagame and President Museveni have managed to resolve past disputes due to a willingness on both sides to engage. What makes the current dispute troubling is the lack of effort at the political level to resolve the impasse.
With absolute honesty do other East Africa Leaders realise that the spat between Rwanda President Kagame, Uganda President Museveni and Burundi strongman Pierre Nkurunzia has really negatively affected the East Africa Community and its overall goal of free movement of people and goods.
why are the remaining three leaders Silent, well of course South Sudan have Internal Issues to deal with. what about Uhuru Kenyatta of Kenya and Tanzania John Pombe Magufuli. These Misunderstanding could lead to Collapse of the East Africa Community just like the time of Nyerere and Amin.
Solving the issues of Rwanda and Uganda still is the hands of Tanzania leaders Magufuli and Uhuru Kenyatta of Kenya. For this has to be done for the greater goos of the East Africa Community and its Citizizen. When one EAC Country fail the whole EAC block is affected like the case of South Sudan.