Why is DP Ruto Star Keeping shining Despite spirited Smear Campaing by Media & Politcal Elite?
If there is one leader in the Republic of Kenya that have endured so much hate since coming to the office after the so called Handshake that brought the two protagonist, Uhuru Kenyatta and Raila Odinga together is Kenya's Deputy President Dr.William Samoei Ruto, PHD.
The political elite from different functions have branded the Deputy President as anti establishment and Corrupt and one fighting his boss President Kenyatta's big four agenda. the question is the DP a Malfeasant? and why so far no legal proceedings against him?
Kenya's Deputy President twitter handle numbers dont lie.
One thing that baffles us even as we write this based on proven field evidence and his social media account is that the more hate he receives the more souls Deputy President keep winning, His twitter handle is testament to that and evocable evidence of the same.
Twitter currently Ranks Deputy president the leading trendsetter and the most followed person not just in Kenya but in East Africa Region on twitter.
From google and twitter analytics H.E Ruto amassed over 1million followers within the second quarter of this year alone. Let me remind you that was the time when the penchant targetted smear campaign was launched unto him about corruption on unprecedented scale.
We are not saying that Deputy President is clean, our emphasis is on the fact that people are beginning to pushback on the smear Campaign targetting the Deputy President especially on Central Kenya and parts of Western Region where we visited.

We Visited Nyeri County Specifically Nyeri town then later on to Mathira small town, in Konyu and Magutu market centers to have a clear understanding of what the Common mwananchi think about Kenya's Deputy. So we posed the Questions.
What are your thoughts about Deputy President? Why is he fighting Uhuru development? I can tell with with clear gusto that a number of Citizens clearly feel top leaders are betraying the Deputy and they questions the veracity to label Ruto as Corrupt and one fighting the President projects.
They challenged us to provide any evidence that Ruto is Corrupt. "They should stop fighting Ruto, he is our Man" stated one Macharia Vegetable Vendor.
"What they are doing to Ruto, is simply not fear, He delivered the presidency to us Central Kenya people not once but twice and the same thing being done to him is what they did to Raira, we will not accept. We will vote for Ruto if elections are held. We are tired being Controlled like Remote" chanted Macharia's neigbour, Njoki, who sells Chickens.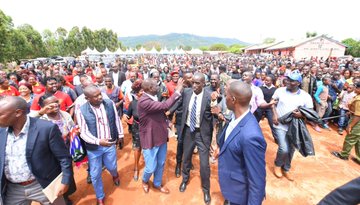 "Uhuru Kenytta have failed us as Kikuyu's their family have interest in everything in this Country and that is what is killing this Country. Uhuru have destroyed everything we stand for, Our Milk is our Gold brookside have bought every single Cooperative in this County, they are enriching themselves while charging low milk prices" charged another milk vendor by the Name Mwangi.
"Who is in charge of this Country is it Uhuru or Deputy President"? One shopkeeper charged at us, Our best bet currently is not Uhuru, he has destroyed our livelihood. At least Raira was keeping them in check in 2014 he added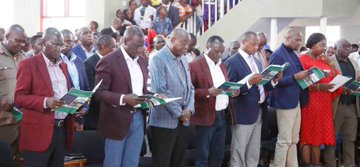 .
Its very evident just as youths always say "Kwa ground vitu ni tofauti" on the ground things are different for sure the president is loosing Central Kenya if all these is anything to go by.
What is your take on BBI, do you think it will Unite Kenya Kenyan's.
"Let me ask you, what is BBI helping us with, to grow economically? "We are happy about the Peace, but the economy is in tatters. Will we eat peace? we are tired of this politicking all the time" asserted one Mutahi.
Meanwhile for Deputy President it seems despite the hate from the elite people, are beginning to worm to him as their future leader. Its up to him to take advantage of the same and resonate with people struggle as majority, see him as guy who hustled his way up from nothing to something.